From mobile to marketing - everything you need to succeed online. We make it easy
The best Nashville SEO services that Increase
traffic, conversions & rankings.
ᐅ Working with a ✅ local Nashville SEO company is the only way to ensure accountability and to receive a personal touch. We have been performing search engine optimization since 2001 before our competition even existed. Feel free to meet with our company founder, who now lives in Franklin, just outside of Nashville.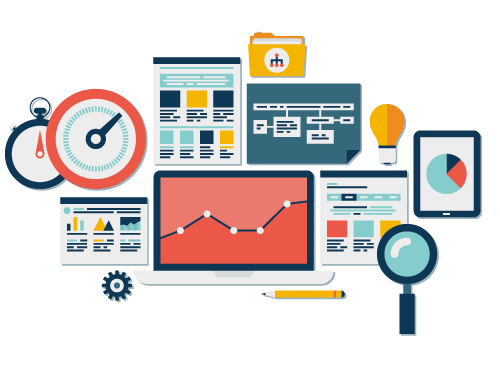 Why do you need Nashville SEO services?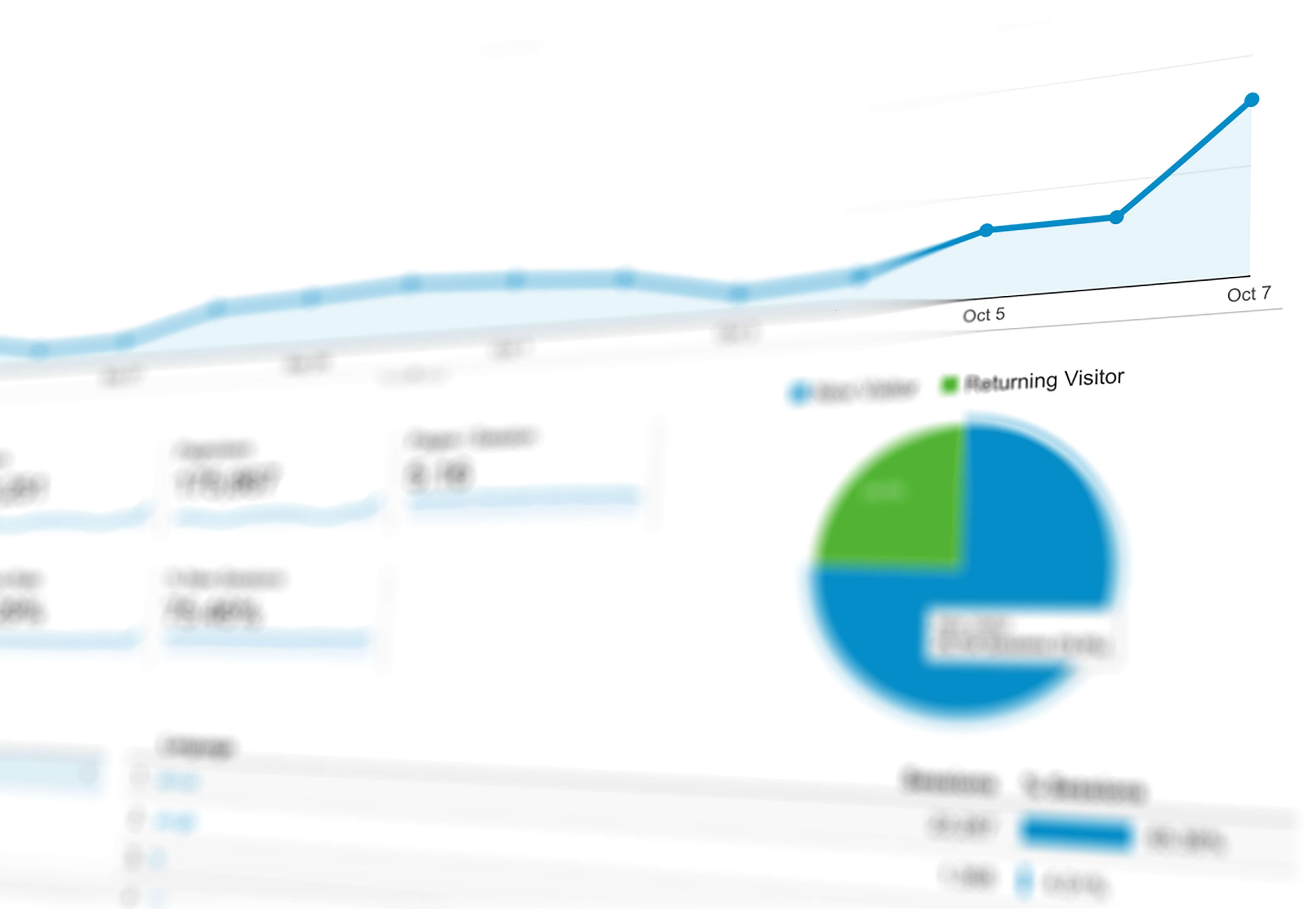 SEO is cost-effective, scalable, and delivers measurable results. 75%, or more, of search engine users, don't look past the first page of results during a query. If your company does not have page one rankings, you're suffering a significant opportunity loss. If you want to be in front of your local customers, you must rank on the search engines. Another benefit is that your website traffic will exponentially increase as you begin to rank higher in search engines for your targeted keyword phrases.
SEO is a Constantly Evolving Industry
Nashville SEO is best left to the experts and is a process that involves continued monitoring and adapting to algorithm updates. Our team of SEO experts achieves results for our clients by continuously learning and adapting to changes in the industry. We have case studies on our most notable accomplishments that we would love to share with you.
An Agency That Gets Quantifiable Results!
An experienced Nashville SEO company takes an extremely targeted approach to Internet marketing. They sit down with you to get an understanding of your target audience, the keywords you'd like to rank for, and what your company is trying to accomplish. This information is then used to create a custom SEO strategy, incorporating the necessary elements of search engine optimization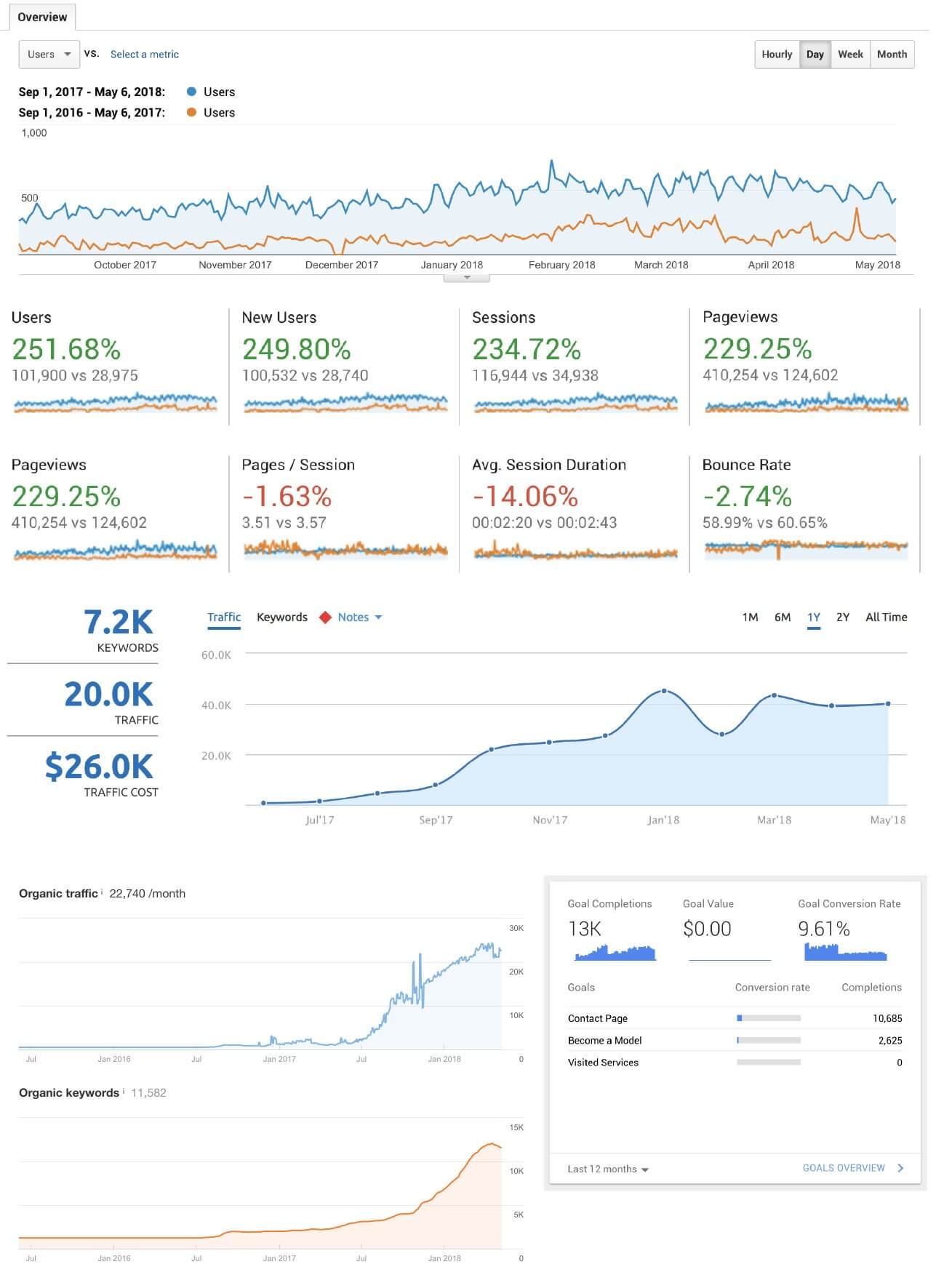 1

352% User Increase

This company came to us after performing SEO for a couple of years with results that were less than stellar. Within 90 days we had more than doubled their targeted traffic, and it kept going up!
2

Improved Analytics Across the Board

How do we know our SEO services drive targeted traffic? Because of sessions, page views and goal conversion rates all increase.
3

From 0 to Globally Ranking Industry Leader In ONE Year

A well-funded startup knew it needs more than their sales team to generate leads. That is when they turned to us to get them ranking globally for targeted keywords. The results speak for, and this company is thriving.
4

More Conversions

How are your website conversions? Do you even measure them? If you Google average website conversions you will see they are typically 2.3% - 5.3%. Targeted organic traffic leads to higher conversion rates.
Top Nashville Internet marketing services
---

SEO
Rank on page one of major search engines for your targeted keywords and generate quality leads.
---

Social Media Marketing
Monitor your brand and communicate through social media like Facebook, Twitter, and other networks.
Internet Marketing
Quality content is a vital driving factor for your digital presence.
---
Website Design
Express your brand and create an online marketing presence your competition will envy.

Mobile WordPress Design
Create an enjoyable experience for your users on any device, mobile, tablet, laptop or desktop using the powerful features of WordPress.

---
Programming
Stable websites, content management systems, and web-based applications that work how you need them to.
Landing Pages
Web-based applications that work how you need them to work.
Calls-to-Action
Streamline communications and improve organization for your employees and customers.
---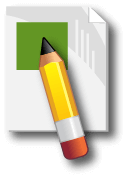 Newsletter Marketing
Effectively Nurture relationships with influential and cost-efficient marketing.
Hosting
Work with one partner for all of your web-based needs and our reliable hosting solutions.
Maintenance & Support
Most websites need some support or maintenance to run reliably.
---
Graphic Design
Traditional graphic design services are offered though not requested as often as they used to be! Competitor Analysis
Landscape Analysis
Discuss
Understand
Analyze
Research
---
Establish Your Brand
Citations
Press Releases
Social and Web 2.0
Value Content
empty
---
Technical website fixes
Content optimization
Website structure
Funnels
Mobile 
Speed
---
Analytics
Review
Goals
Maintenance
Revisions
Repeat
---
Getting Started is easy - reach out to us.
Don't wait for customers to find you, use Nashville SEO services.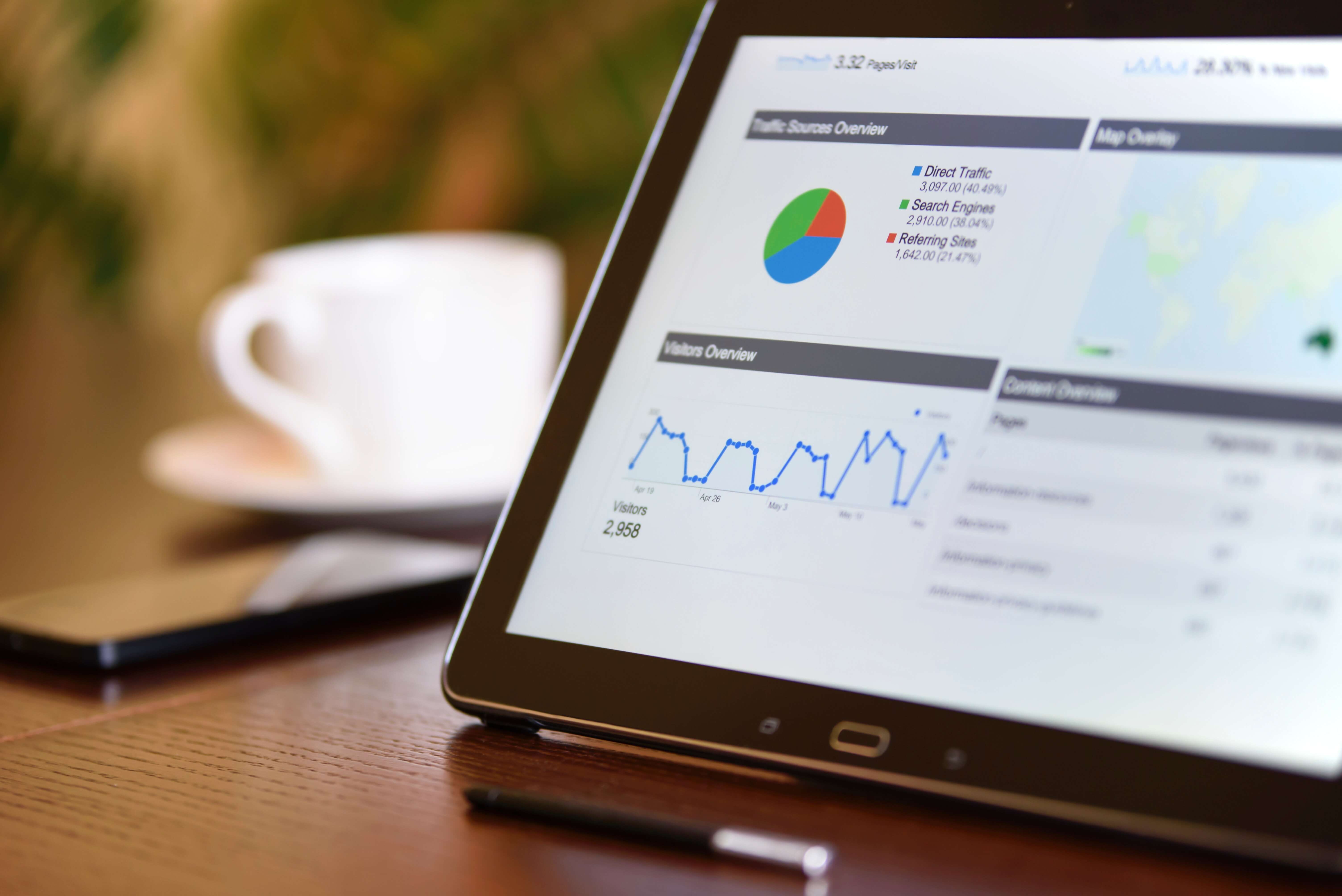 Drive targeted traffic to your website with our comprehensive Internet Marketing solutions. Our dedicated team of digital marketing experts works to give your business the most significant chance of success.
Search engine optimization will increase your traffic
Social Media Optimization (SMO) will help you reach your audience
Pay-per-click (PPC) will help you with targeted ad campaigns
Optimized content, enhanced user experience, & testing will maximize results
Brand Strategy & Market Positioning will give your company a unique value in competitive markets.
Measuring Results Requires Data. We use:









What is Search Engine Optimization (SEO)?
SEO or Search Engine Optimization is the process of implementing strategies and techniques off and on your website to improve organic or "natural" keyword rankings within a search engine. Year after year results has shown that organic SEO provides a higher ROI than any other form of marketing.
Nashville SEO & Internet Marketing Services
Nashville SEO
Improving the visibility of a website or web page in search engines through organic or natural search results are the goal of search engine optimization. SEO considers how search engines work and user search. Our goal is to achieve first-page ranking for clients targeted keywords. Our professional services provide maximum results.
Nashville SEO Consulting
Our Nashville SEO consulting services are designed for companies with internal marketing in place who feel they could use additional expertise. Working with your in-house team we offer design, programming, and search engine optimization services to ensure your marketing goals achieved. Any single service, or all services, may be retained with any degree of assistance. Our flexible retainer-based consulting services are sure to give your current campaigns the extra boost you are hoping to achieve.
Social Media Marketing
Social Media Optimization (SMO) is playing a more significant roll in online strategy and success. Marketers see higher results from integrating social components into their online marketing strategies. Goal setting and strategic planning are essential for social media. There are two categories of SMO which include adding social media features to the website itself, including sharing buttons, RSS feeds, user ratings, news, polling tools, and communities. The second category is promotional activities, which include blogging, participation in social groups and posting status updates.
Competitor Analysis
SEO Competitor analysis is a handy way to reverse engineer your competitions online marketing strategy and discover how they are doing so well. By examining a competitors website, we can determine how competitive your industry and keywords are as well as deciding proper techniques for your industry. Page word count, keywords, and finding links are examples of intelligence we can extract from this online analysis. Focus on real competitors, not the biggest, those who show up on the top three to five spots in the search engines for your keywords.
PPC
Pay per click or PPC advertising is the act of paying for ads to be listed in major search engines. The sponsored links you see when you perform a search are considered paid links. You bid on keywords related to your business to generate traffic. You pay when a visitor clicks on your ad and is also known as "cost per click," CPC, or "pay per click" and PPC. You can further increase your success by testing campaigns, writing effective ads, and complementing these ad campaigns on your website with useful landing pages. PPC can compliment any SEO campaign.
Keyword Research
Selecting the proper keywords is the most critical first step in search engine optimization. Our expert SEO team will create a list of keywords that your targeted visitors would use to find your products or services. Choosing the wrong keywords can doom a campaign before it even begins. Research is imperative to achieve a first-page ranking for a variety of keywords; not just one or two. Keyword research assists in creating targeted web pages, pages that your potential customers are looking for, as well as competitor analysis.
Copywriting  
The often used saying that content is king is exceptionally accurate when it comes to optimizing a website. Search engines love good content; content that is relevant to your topic and that visitors will find beneficial. Good content, and avoiding duplicate content, will assist in the user experience, search engine ranking and generate more traffic. The end goal is to provide value to the reader and show that you are a subject matter expert.
Nasvhille SEO Audits
The first step of an SEO audit is to understand your current situation, long-term goals, and review your website and competitors. Understanding the competitiveness of your online space is an integral part of setting expectations regarding results and commitment. You should realize that being in the top 10 ranking or page one for major search engines can be achieved, although only a handful of sites can make that claim, for any given keyword.
Website Architecture
Nashville Web design architecture is essential for top rankings. A website must be designed for SEO to succeed. A properly designed website will benefit your customers and satisfy criteria set by search engines. The best way to build a website is to include search engine optimization (SEO) best practices as well as implementing usability and keeping in mind your target audience. The architecture and design of your website will influence how crawl-able it is for search engines and the ease of navigation.
Analytics & Goals
As an Internet Marketing Company, there are many things to consider when deciding to launch an online marketing campaign. In addition to accounting for any existing traditional marketing campaigns, past online campaigns, and budgets, your long-term goals must be taken into account. Taking the time to plan is necessary for any future digital marketing success. Tools like Google Analytics and Google Search Console are used to accurately track campaign results.
Link Building
A strategic link building campaign provides the highest chances of online success. You need a combination of credible links and many links that are relevant to your industry and keywords. Results can be an increase in ranking for your site through fewer targeted links that produce more significant results. Link building is not about quantity or buying links; all links are not created equal. Two sites competing for the same keywords may rank very differently based on their linking strategies.
Online Branding
Through our engagement, our customers understand and, connect more effectively with their market to set a course for healthy growth. Our value model is based on helping our clients identify and close critical performance gaps, while also developing a customer-centered market approach, through a clear understanding of their customer's world. Achieving and maintaining top results in a competitive industry requires effort and constant monitoring. Your competition never rests and neither should your Internet-marketing.
Nashville Small business & Local SEO Packages
Affordable search engine optimization services for Nashville small businesses and need a local presence. Every client has unique needs as it applies to the customer base. We can provide regional or small geo-targeted solutions for client websites that sell services or products to customers within specific regions. Statistics show that the majority of website visitors arrive through a search engine. Learn more about our small business SEO solutions.
We understand the need for an efficient and cost-effective solution without all the bells and whistles.
Not all businesses are in super competitive industries.
Tired of seeing your competition getting all the leads? Then our small business and local SEO services are what you need.
Atomic Design was quickly recognized as a top web design firm and top marketing firm by national publications and International awards. We are proud to announce our new Nashville, TN office, although we have been providing web design and SEO services since 1996. We've been in the business of helping companies grow through digital.
We place customer satisfaction at the top of our priorities and credit our desire to focus on technology and tactics that achieve results for our success. We believe in continually studying and testing within our ever-changing industry, and offering the best service to our customers. As a leader of digital solutions, we are here to provide you with our expertise and, more importantly, deliver results.
Our team is experts in their respective fields of Nashville graphic design, programming, and Internet marketing. They are equipped and continually trained to better serve you and all of Nashville with your marketing goals.
We encourage you to reach out to us and share the details on your project as well as your goals and expectations. The greatest joy we have is helping to launch a new business or being a piece that helps a company grow its bottom line. Let us bring our superior Internet marketing services to your business. We believe that when we excel, your entire organization does too.
Atomic Design Nashville has continued to branch out but only taking on a limited number of clients at any one time. This limited client base enables us to focus on you and provide the attention your campaign deserves. Our owner lives in Nashville now and is happy to speak with you. Our core services include search engine optimization, website design and development, and design.
Frequently Asked Questions
What does Nashville SEO mean?
First, SEO stands for search engine optimization which is the implementation of tactics that increase the visibility of your website on search engines. Benefits of additional visibility include increases in website traffic and the quality of the traffic. Nashville SEO is the increased visibility in the city and surrounding areas of Nashville, TN, including growing areas like Franklin.
How do you rank in Nashville on search engines?
In order to increase your rankings in Nashville for targeted search terms you must implement SEO tactics and brand awareness. Tactics include on-site and off-site factors such as fast loading web pages, mobile friendliness, optimized content, a technically sound structure, user experience, social factors, and links to your website.
How much do Nashville SEO services cost?
Nashville Digital marketing and SEO are an integral part of any marketing mix. SEO services costs are based on how competitive your market is, what type of geographic reach you are targeting, and the volume of keywords. SEO is typically priced as a monthly spend depending on your needs. We have seen ranges between $1,000 - $20,000/mo.
What are the benefits of Nashville SEO?
The primary benefits are acquiring new customers in your targeted city. Your website will receive quality local traffic and you will not need to pay for ads. Your business will have fewer lost opportunities through ranking above your competition.
Where do I find an SEO Agency in Nashville?
When searching for an SEO agency in Nashville it is advised to consider experience and approach. If you do a google search see who is ranking on page one in the search engine results then reach out and ask questions with a focus on results, process, and expectations.
MAIN INTERNET MARKETING SERVICES
Atomic Design Nashville
8132 Boone Trce
Nashville, TN 14607
(615) 988-7022

Monday           9:00 am - 5:00 pm
Tuesday           9:00 am - 5:00 pm
Wednesday     9:00 am - 5:00 pm
Thursday         9:00 am - 5:00 pm
Friday               9:00 am - 5:00 pm
Saturday         Closed
Sunday            Closed
We accept major credit cards and PayPal

Nashville, TN is known as the Music City and is the capital of Tennessee. The city is located in Central Tennessee and is the seat of Davidson County.
Nashville was founded in 1779 by James Robertson, John Donelson, and a party of Overmountain Men near the original Cumberland settlement of Fort Nashborough. It was named for Francis Nash, an American Revolutionary War her. The city quickly grew because of its strategic location, its status as a major railroad center, and accessibility as a port on the Cumberland River.
Nashville is the home to Vanderbilt University, the Grand Ole Opry House, The Country Music Hall of Fame and Museum, and historic Ryman Auditorium. The city is known for the music, healthcare, banking, transportation, and publishing industries, and is home to many colleges and universities. Businesses that call Nashville home include variouso record labels, Gibson, Hospital Corporation of America, CoreCivic, and Nissan North America. Nashville is considered a southern boomtown and has one of the fastest growing economies in the United States.
Nashville is located on the Cumberland River in northern Middle Tennessee and was formerly an important shipping port. Since the 1970s, the city had undergone tremendous growth, especially during the 19902 when then-Mayor Phil Bredesen made urban renewal a priority. During this time notable landmarks were built that includes the downtown Nashville Public Library, the Bridgestone Arena, Nissan Stadium, and the Country Music Hall of Fame and Museum.
Nissan Stadium was built for the Tennessee Titans of the National Football League who moved from Houston and debuted in 1998. The city is also home to the Nashville Predators of the National Hockey League since 1997. Other professional sports teams that call Nashville home include Nashville Kangaroos, Nashville Sounds Baseball Club, and Nashville Soccer Club.
Nashville suburbs include Hermitage, Goodlettsville, Hendersonville, Mount Juliet, Brentwood, Franklin, Nolensville, Smyrna, Bellevue, Madison, Inglewood, Bella Meade, Green Hills, Oak Hill, Forst Hills, and Kingston Springs. Nearby towns include Clarksville, Dickson, Cornersville, Murfreesboro, Watertown, Cave City, and Bowling Green.
Every year tourists are drawn to Nashville. One of the most popular reasons is its association with country music. The Grand Ole Opry is the world's longest-running live radio shows. There is an area in the city known as Music Valley where the Gaylord Opryland Resort & Convention Center, the Opry Mills regional shopping mall, and the General Jackson Showboat are located. Nashville has many museums and arts centers, including the Tennessee State Museum, the Johny Cash Museum, the Frist Center for the Visual Arts, Cheekwood Botanical garden and Museum, and even a full-scale replica of the Parthenon.
Watch Our Nashville SEO & Web Design Video
Get Started on a new web design or increase
your online exposure with SEO. We are here to help.
Christopher J. Hanna is an entrepreneur known for founding Atomic Design an Internet marketing company that specializes in search engine optimization (SEO) and web design, as well as TSM Agency. He sold his first six figure business at the age of 25 and has helped over 1,000 business over the years. He now consults other agencies and businesses in digital marketing.