Top 10 Interesting Facts about the Population of Rochester, NY
Rochester is located south of Lake Ontario, in Monroe County, New York. That said, there are a few interesting facts about the Flour City, we thought you should know. A famous SEO company just happens to be located here, so we know a thing or two about the city.
Fact 1: The city's population might be falling by an average 1% each year as of 2012, but it still stands out. Rochester's population currently stands at an estimated 210,000, making it the third most populous city, behind New York City and Buffalo.
Fact 2: There are more women than men in the city of Rochester. However, the difference is not that eyebrow-raising. You'll find an average 6,132 people per square mile within the city proper. Rochester is 48.7% male and 51.3% female as of the 2010 population census.
Fact 3: Rochester is the 51st largest metro area in the country, with an estimated 1.08 million people, while the larger Rochester urban area having about 720,000 residents. There are plenty of  must see sites in Rochester to keep locals occupied.
Fact 4: Rochester is known for its technology and industrious population. It is the second largest economy in the state of New York, behind New York City. Our Rochester SEO services help drive the local economy.
Fact 5: The city is actually quite diverse compared to other major cities in the country. Data from the 2010 census suggests that Rochester is 43.7% white, 41.7% African American and 6% Asian, while the rest are of mixed race.
Fact 6: Puerto Ricans love Rochester, it being the city with the largest population of Puerto Ricans. It's also a popular destination for immigrants from East and Southern Europe, Sub-Saharan Africa and the Caribbean.
Fact 7: Speaking of diversity, Rochester leads the way in one significant aspect. Rochester registers the highest per-capita deaf population in the country, owing to the fact that it is home to The National Technical Institute for the Deaf. Our owner attended RIT and lived in the NTID forms while creating his first web design portfolio.
Facts 8: Granted, there's a huge number of learning institutions in Rochester, with the University of Rochester leading the pack. 12.5% of adults within the age of 18-24 are college graduates, while 44.2% of the population having attended some college or associates. 23.8% are high school graduates while 19.4% are unaccounted for in as far as high school, college or graduate education is concerned.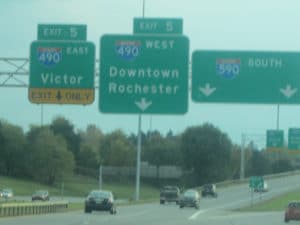 Fact 9: Rental income in Rochester has been on the upsurge in recent years, with the real estate market growing by the day after the great recession. As of 2015, it would cost you an average $931 to rent a two-bedroom house in the city, which is below the national average which currently stands at $1,087.
Fact 10: Compared to most cities in the state of New York, Rochester is doing quite well in as far as income per household is concerned. According to Wikipedia, the average income of the city's household was $27,123, with the city's per capita income being a little above $15,000, the last time these statistics were recorded.
Source
https://worldpopulationreview.com/us-cities/rochester-population/
Christopher J. Hanna is an entrepreneur known for founding Atomic Design an Internet marketing company that specializes in search engine optimization (SEO) and web design, as well as TSM Agency. He sold his first six figure business at the age of 25 and has helped over 1,000 business over the years. He now consults other agencies and businesses in digital marketing.