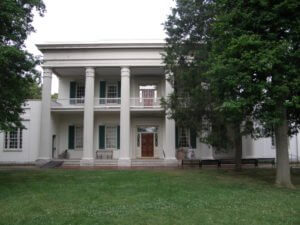 ALL ABOUT THE HERMITAGE
This is a historical plantation and museum located in Davidson County, 16 kilometers east of Nashville. The plantation was originally owned by Andrew Jackson the seventh president of the USA. The hermitage was built in a meadow and was chosen as a site for the house b the wife of Andrew Jackson. Before the building of the house, the slaves I the plantation and the former president all lived in different log cabins, which were named the west, east and southern cabins.
History
Andrew Jackson commissioned a better house and a two storey federal style building was built with bricks manufactured on site with skilled labor between 1819 and 1821. In 1834 however, a fire damaged the property which prompted the construction of the current 13 room Greek revival structure built on the same foundation as the former house.
Development
The interior of the mansion has a outmoded federal style woodwork moved into the bedrooms. The public rooms have a Greek revival style mantle and woodwork. The cantivelated elliptical staircase in the center hall is the highlight of the interior architectural additions installed in the mansion.
The site currently covers a spacious 1,120 acres including the original 1,050 acres of the original plantation. It is overseen by the Andrew Jackson foundation. Andrew Jackson's grandson was the last to live I the mansion, and the family moved out in 1893 when it ceased becoming a family residence.
Public Exhibition
It was opened to the public through the ladies hermitage association, the current Andre Jackson foundation, who held the title deed to the property through the state of Tennessee as a museum of Andrew Jackson's life.
Visitors
Considered as the best preserved early US presidential home, the mansion at hermitage was welcomed approximately 16 million visitors from around the world since its opening in 1889. An interior restoration was done between 1989 and 1997 and today, the wallpaper and family possessions give visitors an idea of what life was like back then.
And finally
The hermitage opens daily with the aim of increasing public understanding as to the complex life and times of Andrew Jackson, to inspire pride in the nation, and try and relate the times between then and now. This the Andrew Jackson foundation does through the preservation, interpretation, exhibition, education, research, and publication.
It is the oldest and largest historic site museums in the US. It has welcomed guests for over 125 years, ranking in as one of the most visited museums in the country. The tours are available in five languages and are all year round.
Sources
https://en.wikipedia.org/wiki/Hermitage_Museum